Olde English Bulldogges are a healthy, active choice for Bulldog lovers,  these dogs are bred to be more athletic and hardy than the English Bulldogs they somewhat resemble.  Oldies have fewer breathing and eye problems and are able to tolerate more extreme weather conditions.  The goal of Oldie breeders is to produce healthy litters that are free bred and free whelped, and most Olde English Bulldogges produce quite large litters, sometimes up to 10 at a time!


Oldies are known for their loyalty to their owners, their fun loving natures and their extreme athleticism.  You will see that All Star Bulldogges are breeding for a taller, more rugged 'bully' looking dog.  One that will be happy hiking in the woods with you or crashing on the couch to watch movies.  We work to place you with the perfect puppy to suit your lifestyle.

The Olde English Bulldogge is not a recognized breed with the CKC but is recognized as a Rare Breed, enabling owners to show their dogs in local dog shows if they so desire.  We have shown our oldies to Championships and have a few more Champions in the making.  Conformation shows are a great way to see how your dog measures up against the breed standard, the shows are also a fun way to meet other dog enthusiasts.

Bulldogs have a tendency to be stubborn so obedience classes are a must. There you'll learn how to manage their bully ways and create an even stronger bond with your new family member.  

All of our Oldies are incredibly athletic and agile, so dog sports may be something that interests you.  Whether you choose to try frisbee, lure coursing some agility or even dock diving your Olde English Bulldogge will never cease to amaze you!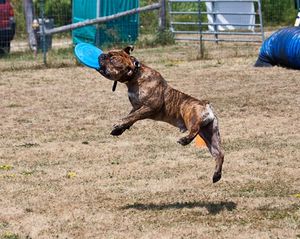 Adding a new four legged family member is a big decision and one not to be taken lightly (oldies have quite a long lifespan living into their teens).  Please feel free to read through our website and see if the Olde English Bulldogge is the breed for you.  If you have any questions please contact us.