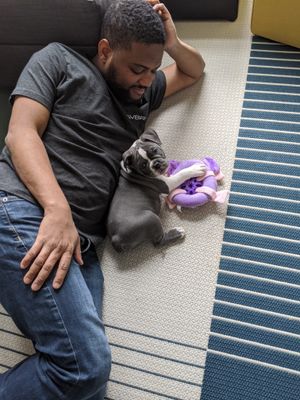 Suruthi, Seville and Skye
We had discussed getting a dog for a long time and it took a while to land on the OEB, but once we did Erin was the clear choice.
From our first conversation with her it was clear that not only did she have great dogs but she also made herself available to us as a resource through the whole process and beyond. Having her to lean on as we got prepared for our new puppy and as we navigate the ups and downs of puppyhood has made all the difference. Skye (our OEB) has only been with us for a few weeks but now we can't even imagine what life was like before her!
Thank you Erin
The Leclair Family & Fergie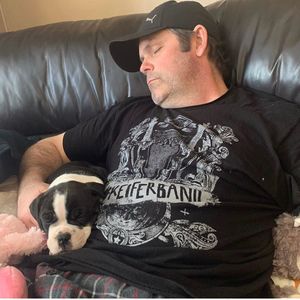 You have made this experience an absolute awesome experience.
Talking to you and seeing how caring, patient and understanding you are with people is what this world needs right now.
I wasn't sure how I would feel being on the fence about getting a puppy so soon after Juicy's passing but talking with you and seeing the effort you made to make us happy, that goes beyond words.  I never thought getting Fergie was what I wanted right now but having her is exactly what I needed.  
She is a lovable, sweet and beautiful dog.
The Lappin Family & Statler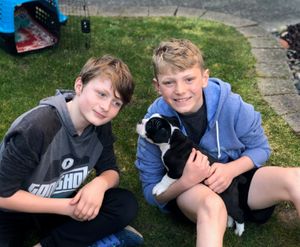 Statler is settling in quite well with his new home.  He is so sweet and shows love to us all!  Though such a crazy time in the world, the slow down has given us the chance to all bond with Stats and help him feel like we are now his family.  We are having fun and his presence in our house has made it feel more like a home - complete!
Thank you for all of the communication and photos throughout the weeks/months prior.  It's hard when we are separated by provinces but you made it so we felt connected and informed.  The videos and pictures had us looking numerous times a day!
Statler is a beautiful dog both in physical appearance and in personality.  
The Asher Family & Bella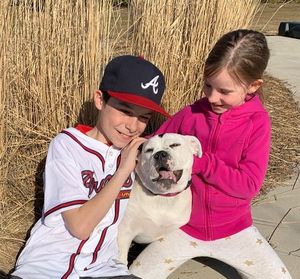 This is our girl Bella!
She's everything that Erin promised and more.  She is very affectionate, playful and rambunctious but gentle with our grandchildren Ashley and Ozzy, protective.
She has more than enough energy to walk the farm, was easily trainable not to chew on the furniture, to potty outside, to sleep through the night, never to whine, whimper, or yap when left alone, and to wait patiently, ... but she can be stubborn.
Just a perfect dog for us.
The Galati Family & Travis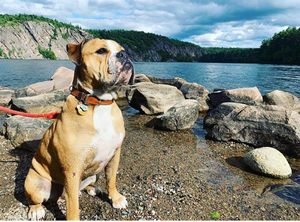 After long debates and discussions, my wife and I felt it was finally time to enrich our family's live with the addition of a dog. As a family of five we all independently researched for the perfect breed. With the benefit of the internet we quickly came across many breeds and breeders but most importantly each of us continuously encountered numerous warnings of breeders that are in the business with the sole focus of only earning an income. The common consensus was, "Do your research."
After several dinner time discussions, we all agreed it was a Olde English Bulldogge we wanted. We came up with a list of breeders local to us and from the moment I email Erin at All-Star Bulldogges and through the entire adoption process you can tell that Erin was a breeder that cared about our family's adoption experience, but mostly the well-being of her dogs.
Through the entire process, Erin was upfront and knowledgeable with any questions my family or I had about the breed or just general dog care questions. She does an exceptional job in telling you what's going on behind the scenes when you're not there. The constant emails, from pregnancy announcements, pictures, birth, litter count and vet visits. Erin worked hard making sure that we were a big part of this process.
In the end we did adopt a puppy but during the process Erin adopted us. We felt like family. We couldn't be happier with the experience, but we are over the moon with our new Olde English Bulldogge, Travis.
 
Thanks, Erin. Thank you, Fury.
The Mills Family & Neeka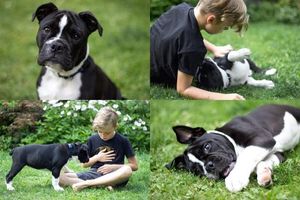 It was such a pleasure meeting Erin and her All Star canine crew.  We knew as soon as we met Ting that a Bulldogge would be right for us.  We had done a lot of research into dog breeds and our number one priority was a family oriented breed; specifically a dog that does well with young, rambunctious boys.  Erin provided a lot of insight into the breed's characteristics as well as her specific goals for the dogs she breeds.  We were particularly happy with Erin's commitment to match the puppy's personalities with the right family.  We have had several dogs in the past but never had such a good experience with a breeder.  It is clear that Erin is completely committed to the happiness of her unique pups but she somehow manages to balance that with a down to earth open-mindedness that was really refreshing. 
Our little/big Neeka comes from the 2015 Ting/Dozer litter and came home to us in the middle of summer.  Since then, she and the boys have been an unstoppable trio. She loves every person and every dog she meets. She is incredibly adaptable, taking everything in stride. She takes easily to training and sincerely aims to please.  She is so curious; every new discovery is THE BEST discovery.  It has been amazing watching Neeka and the boys bond.  She is only nine months but we can't wait to see the adult dog she grows into and her relationship with all of us flourish.
Thank you so much Erin for such an enjoyable adoption process and for always being there for us since then.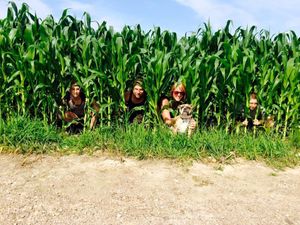 Jason, Kimberly, Rylee, Elijah and Little Tikka

For several years my husband and I were debating on getting a dog to complete our family. It wasn't until we saw an olde English Bulldogge at a Beatles festival in Orillia one year and we were certain this was the  breed we wanted. We took a few more years to research the breed and breeders to find what we were looking for. Then we came across allstarbulldogges. Erin invited us to their annual bully BBQ which was a fantastic way to interact with the dogs, new and old owners. It was then that we met Tikka the mother of our tikka. Since day one of committing to a puppy with Erin, she has been the most helpful, patient and extreme pleasure to work with. Tikka is our first dog so we had a lot of questions, ongoing questions til today even a year later. Erin always kept us informed with the progress of Tikkas pregnancy, photos from
Ultrasounds to after birth and then weekly growth.

We couldn't be happier with the adoption process and knowledge Erin had of her dogs. Tikka our puppy has been a wonderful addition. I will admit the training was a huge new adjustment for us but an adventure all the same. She has brought so many smiles and laughs to our faces, such personality.

Tikka can be quite stubborn at times but the most affectionate, loving dog. She camps, hikes and spends days at the beach with us. She is a great travelling companion and goes where ever we go. I never thought I could love an animal as much as I do.

We are so thankful to have her and thankful for Erin's never ending help!
Ashley, Bill & Gus
 
After months of contemplating about adding a puppy to our home, we fatefully stumbled upon a breed that we had never heard of before. But after reading about Olde English Bulldogges, specifically Erin and her All-star Bulldogges, we knew that this was the kind of dog that would be a great fit for us.  
Fast forward a couple of months and many emails later, Erin invited us out to meet her and some of the All Star Bulldogge family members at a dog show. Bill and I were in love the moment we met Tikka, we knew we wanted one of her puppies.

We were so excited with the idea of having a puppy from Tikka's last litter that we didn't take into consideration that we would be bringing home a puppy less than a month before our wedding!!!  Needless to say, planning a wedding, and raising a puppy are not a good combination. We mentioned our concerns and struggles to Erin, and she was there to support us 100%. Erin went as far as taking Gus back for a couple of weeks, until after our wedding was over. I have never come across a breeder who was so understanding and helpful.
               
We have had Gus for over a year, he is exactly what we had hoped to find in a puppy, and more.  Neither of us can imagine our life without him.

Thank you Erin for your ongoing support, and mostly for giving us our Gus.
 
Candice, Dennis, Chase & Hooch

After losing our English Bulldog after a short battle with cancer, I knew we couldn't live without the love of another bulldog. I had done some research on the Olde English Bulldogge breed, and decided that we needed to investigate further into the breed as we wanted a more 'energetic' and healthier version of our beloved Bulldogs.

Erin's site popped up in my search many times, and I knew that was my sign to get in touch. We filled out a puppy application and within a few days she replied! Erin invited us to her home, (even knowing we would have to wait until the next litter for our own pup) to let us see some puppies and help heal us in our time of loss. For that we are very grateful. Besides that kind of compassion for us she has a great compassion for her dogs. They are very well taken care of and that in itself made the choice a no brainer!

Once we knew that Nelli was expecting her first litter and we were going to be getting one of her puppies we were over the moon! Erin always kept us posted through, during and after Nelli's pregnancy. We even went to visit a few more times before and after the puppies were born. Always felt welcomed!

On August 13th 2015, We brought our beloved Bulldogge pup Hooch home! What an amazing girl she is! Very smart, loving, kind and goofy! Hooch makes us laugh every single day! She is also a very loving and loyal companion to our son Chase, who is an only child.

We are super excited to be adding another one of All Star Bulldogges pups to our family in 2016! Then our little family will be complete!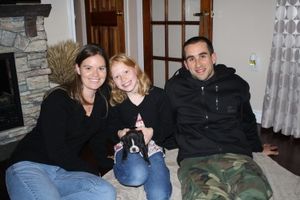 Jaime, Mark, Kaleigh, & Millie
Once we decided it was time for us to add a furry member to our family, it was harder than we had anticipated deciding on a breed that would be best for our life style and family. My husband came across the Olde English Bulldogge breed and we decided to search more, we came across Erin's site on line, and we decided to fill out the application, Erin invited us to her home to meet some of her dogs.  We knew we had the right breed, and the right breeder for us, as soon as we met her amazing dogs.

After missing "Tings" litter by a short time, we waited patiently for an entire year, as we had to get a puppy from one of Erin's dogs.

 In October 2013, we had the honour of getting one of "Frankie's" puppies from her very first litter. Erin was phenomenal with us throughout the entire pregnancy, the birth, and 8 weeks of waiting to bring our girl "Millie" home, as first time puppy parents we were so excited. Erin was so helpful with assisting us in "surprising" our 10 year old daughter with her new furry sister. Erin answered every one of our emails, texts, and was super accommodating with our last minute visits; she welcomed us into her home like we were family.

 We've had so many laughs, so much fun training, and absolutely loving how snuggly our bully is. She has become our daughters best friend, and watching them bond has been amazing. We are looking forward to watching them grow up together. Millie has brought so much joy and such entertainment with her goofiness, and her sporadic energy. We are so happy with the choice we made getting Millie from All Star Bulldogges, and so pleased with the love and dedication Erin has towards each and every one of her dogs, and every individual puppy.

Thank you Erin for our silly Millie!