Carolina Blues Dozer of River Town
'Dozer'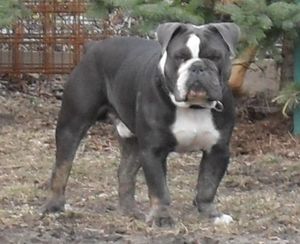 Dozer is a beautiful blue trindle dog who is owned by River Town Bulldogs.  He is from the very well known Caronlina Blues Kennel, located in North Carolina. 

Dozer has incredible bone structure, great markings and has a very sweet, loving temperament, making him the total package.  We are excited to add these great bloodlines to our breeding program and look forward to seeing what Dozer produces!